The first mod that most people will use is uquest mod. Basically it gives you random quests to do in which it will reward you with coins for finishing which you can later use at various shops. When you first start out you need to grab a quest the easiest way to do this is by typing /q give. In the chat box the quest will pop up saying what you need to do for example the quest RichMan wants you to collect 5 diamonds. After you have collected the diamonds you will need to type /q done to turn in the quest. Questing is basically a rotation of /q give and /q done. If you are halfway through a quest and want to check your progress you can type /q info and it will show you your current progress on the quest. You can also type /q help to see a full list of commands.
The money plugin is extremely easy to use so this will be short the full list of commands are as follows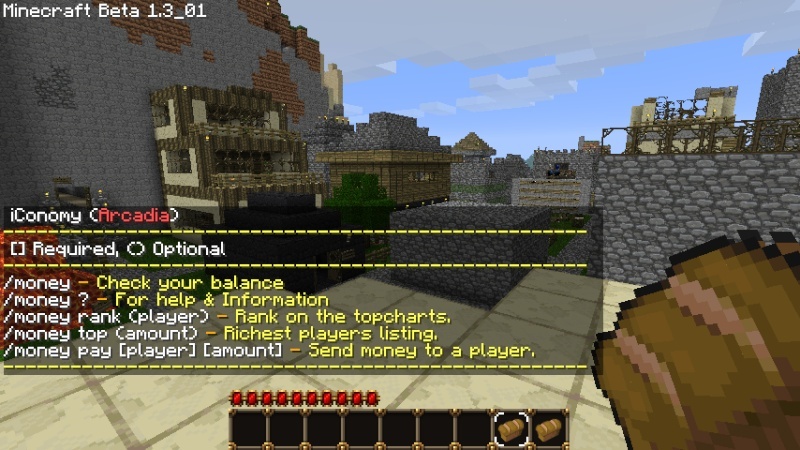 . The only command you may use is the pay command. An example of this command would be
/money pay Arow555 5000
. This would result in 5000 of your coins being given to Arow555.
Creating a shop is the first step to trading with other players. The shop allows people to purchase or sell goods to you while you are out mining or building a house. To create a shop you need to type /shop create (here goes the name of the shop). We are going to call our shop Arow's so we would type
/shop create Arow's
. You will then get confirmation that the shop was created correctly as shown
.
If you decide business is bad and would like to close the command is
/shop destroy
. You may have more then one shop but should not have too many as to take up all the space in the town.
As the owner of the shop you will need to decide what items to sell/buy and what the prices of the store will be. The first command which is used to add items to your stock is the
/shop add
command. This command will add whatever you are holding to the shops inventory. If you want to add a certain amount you can type in a number like 128 or all (for the picture I used all).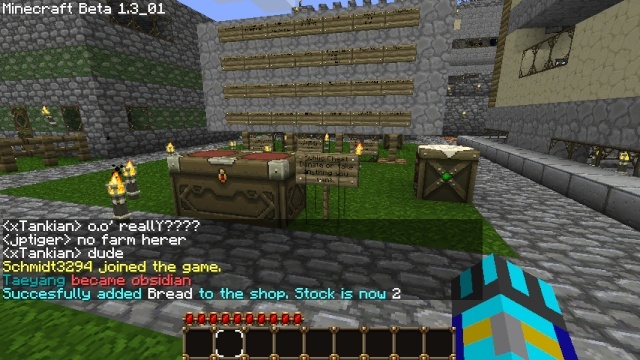 After you have added items you need to set the prices using
/shop set
. For items that you are selling (Buy mode) you need to type
/shop set buy Bread 20 1
. The Bread tells the pluggin which item you are setting a price for the 20 tells the price and the 1 is how many pieces of bread you buy for 20 coins. This item will now show in the
/shop list buy
command as shown.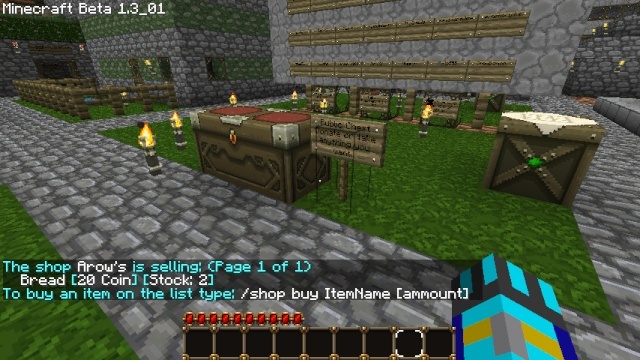 To buy items from other players you need to have at least one of the item. First you will add it to your inventory then instead of typing
/shop set buy
you will type
/shop set sell.
If you come across items you no longer wish to sell you can remove them with
/shop remove (itemname).[
url=https://servimg.com/image_preview.php?i=8&u=16282625]
[/url]
When walking into a new store a good thing to do is look at what they sell and buy. This is done by using the /shop list buy/sell command make sure that when you type the list command there is only one page if there are more like in my shop you need to put a 2 after the buy/sell part to go to page 2 and etc. For example if we see Bread for sale and want to buy it we would type /shop buy Bread 2. To sell an item to a shop we would type /shop sell Bread 2 . Another way to sell an item is to hold the item in your hand and just type /shop sell (then the number of that item you wish to sell).
If you guys have any questions or notice any mistakes i should change let me know.
Ty =) this helped so much

Boucht a.k.a Ezio



Posts

: 10


Join date

: 2011-03-10


Age

: 22





Similar topics
---
Permissions in this forum:
You
cannot
reply to topics in this forum